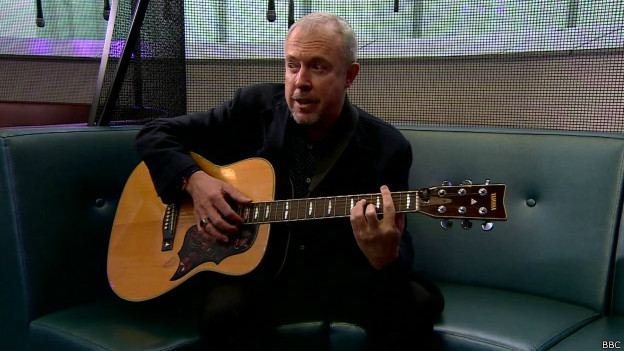 The leader of the group " Time Machine "Andrei Makarevich accused some Russian media in the dissemination of false information about his trip to Ukraine and declared his readiness to sue because of inaccurate publications.
" I treat this as a deliberate defamation based on distorted information and lies. [...] The fact that some newspapers – "Komsomolskaya Pravda", "News" – some TV programs reported that I went to the Ukraine to perform in front of the security forces Slovyansk Ukrainian. What is absolute nonsense . Traveled I'm not Slovyansk, and Svjatogorsk where children are refugees from Donetsk and Lugansk. Prior to that I played, "- said the musician on the radio station" Echo of Moscow ".
At present, both editions of the city, where he had been an artist, is correct.
Earlier in the newspaper "Izvestia" appeared Click article that the deputy Yevgeny Fyodorov offers deprive Makarevich all awards. The deputy proposed a bill that calls for anti-Russian state awards may be deprived.
"Andrei Makarevich long collaborated with the Nazis. This choice he made a while ago, when he moved to the side of the enemies of the Russian Federation", – quoted publication deputy.
Prior to this speech on Makarevich Ukraine reacted sharply to the pro-Kremlin media. The reason for their dissatisfaction was the assumption that Makarevich deliberately drove into the territory occupied by the Ukrainian troops.
The artist himself has repeatedly said that he went to where he was called volunteers.
In particular, the portal "Vesti.ru" an article Click "Makarevich sang under the banner of the Bandera" , in which the performance was compared with Makarevich concert before Nazis occupied the city.
In the "Komsomolskaya Pravda" about the performance of the singer released an article Click "Singing in front of Punisher: Andrei Makarevich perform in cities employed Ukrainian troops " and broadcast Click " Andrei Makarevich made in the captured Kiev junta Sviatogorsk "
The newspaper also published an article devoted to the Click reaction Kobzon, and took Click interview at the very Makarevich of the reasons the artist to go to Ukraine.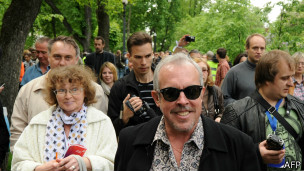 At the same time, the protection Makarevich already made writer Boris Akunin, Commissioner for Human Rights in Russia Pamfilova, politician Boris Nemtsov.
A similar campaign against the actor turned after Makarevich took part in the "Peace March" on March 15.
Then public figures had Click apply to the authorities , to, in their words, to prevent harassment of the artist.