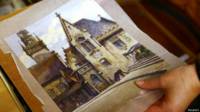 Auction House in Nuremberg German rescued 161 thousand. dollars per picture Munich Town Hall, made by Adolf Hitler in 1914, when he made the painting.
As the organizers of the auction, the buyer got a watercolor the Middle East.
The picture was put up for sale two elderly sisters from Germany, who noted in advance that 10% of the proceeds will go to charity.
Some auction houses, however, still refuse to sell works Hitler's.
Many criticize the auction house for the sale of works of the Nazi leader.
Auctioneers in response to state that all claims must be presented to the owner of the painting. Their names are not called; we only know that the two elderly sisters.