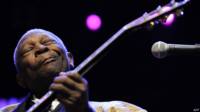 The famous American blues guitarist and singer BB King, who was called the king of the blues, died in Las Vegas at the age of 89 years.
According to the lawyer musician BB King died in his sleep. Not so long ago he was in hospital with a disease associated with diabetes.
BB King – whose real name is Riley B King – was born in 1925 on a plantation in Mississippi, and a child working in the fields, picking cotton. In the 1940s he was a street musician in Memphis, and in 1947 became a singer and presenter at a local rhythm and blues stations. In 1949, he released his first single, which was not a success.
По According to one critic, "BB King introduced us to sophisticated style guitar solo, based on smooth and shiny bendinge vibrato influenced almost every follower elektrogitarnogo blues".
In 1957, he released his first album Singin 'The Blues. Total discography of the musician has more than 40 records.
One of his most famous songs is The Thrill Is Gone (1969).
BB King was one of the first bluesmen who began to use elements jazz and blues in his work, and then contributed to the development of rhythm and blues in the late 60s.
Pioneer
At the beginning of his career Bee Bee King played almost exclusively for black audiences. However, its original style and undoubted talent made him famous among fans of rock and jazz. He began to go on tour in Europe, where his records regularly takes first place in the charts.
The young musicians – among them Eric Clapton and Steve Miller – admired his style of playing the guitar and regarded him as a pioneer genre of rhythm and blues in the 60s and 70s.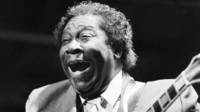 ____________________________________________________________
OWN EYES
Alexander Kan, cultural columnist BBC Russian Service
I had a chance to visit the BB King concert in Leningrad in 1979.. Time was quite stagnant, genuine American musicians of jazz, blues or rock came to the Soviet Union with a frequency of once every few years, and each concert was a grand event.
Palace of Culture named after Gorky was buzzing with excitement. Blues – and the forerunner of jazz and rock, and the hall gathered everyone who in any way been involved in the great American music – jazz from the old to the rockers just gaining momentum.
The root blues has never been particularly popular in USSR. Fans of pure jazz and pure rock 'n' roll was much more. But somehow we knew all about the blues, and the incredible intensity of blues guitar riffs, combined with fiery brass section started immediately room.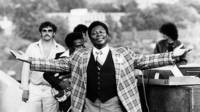 Of course, a relaxed dancing in the stalls or admiring fans cheering in the hall and speech could not be. Strict police strictly follow the order, and the slightest attempt not only to go into the passage, and jump out of the chair instantly suppressed.
This mercilessly cruel discipline is respected while all pop-rock-jazz concerts, and during tours of Americans and even more so.
King then traveled almost the entire country: Georgia, Baltic, Moscow, Leningrad, Central Asia. It is difficult to overestimate the influence of the tour. Fans of the Beatles and the Rolling Stones to hear the origins, the roots hear your favorite music.
Even then, in Moscow was founded by guitarist Nikolay Arutyunov "Liga blues".
A little later, along with another guitarist Sergey Voronov, they formed a band Crossroads. The name was borrowed from the classic blues of Robert Johnson, the famous BB King.
____________________________________________________________
BB King played a lot around the world. Until recently, he gave no less than 100 concerts a year.
In recent years, BB King does not record new albums and gave major concerts. His farewell tour was in 2006.
As a result of the 2011 Rolling Stone magazine poll BB King took sixth place in the list of the top 100 guitarists of all time.