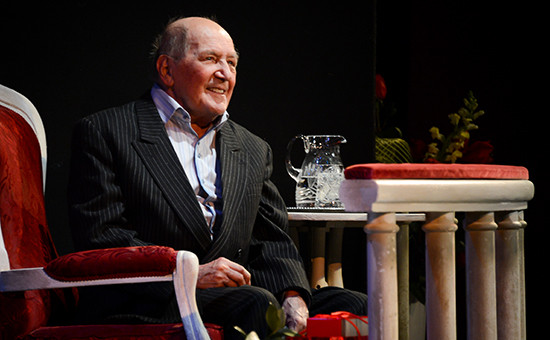 Actor Lev Durov at the anniversary party "60 years on stage and in the movies" at the Theatre on Malaya Bronnaya
Photo: RIA Novosti
On the death of Leo Durov RIA Novosti news agency reported his daughter Catherine Durov. According to her, Durov died in the hospital on the night of August 20, at 00:50 MSK.
According to Lifenews, the day before the death of People's Artist underwent emergency surgery and was inducted into the state medical coma, but doctors was unable to save him.
The information on the bottom of the farewell to Durov will later told Tass director of the theater on Malaya Bronnaya Sergei Golomazov.
The last two weeks of his life the actor was in the hospital. August 7th, he was hospitalized unconscious in a Moscow clinic after suffering a stroke. Some time later, Durov diagnosed pneumonia, after which his condition worsened.
Lev Durov was born December 23, 1931. He graduated from the Moscow Art Theatre School in 1967 and worked at the Moscow Drama Theater on Malaya Bronnaya. Durov played more than 160 roles in movies. The most known for his films such as "The Three Musketeers", "Armed and Dangerous" and "The Road to Calvary", "Diamonds for the dictatorship of the proletariat", "Man from Boulevard des Capucines", "17 Moments of Spring."
Creative activities Lev Durov is not limited to film and theater, he worked on the radio, teaching (in particular, let the cast course in the School of the Moscow Art Theater), has performed with creative evenings in different cities of Russia. The actor has also written three books. The first, entitled "Sinful notes" was published in 1999, and in 2008 were released two more books – "Tales from behind the scenes" and "Tales for an encore."