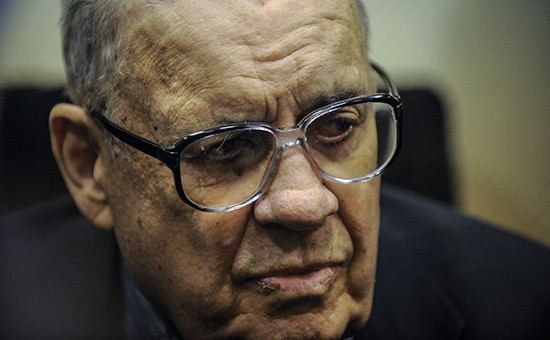 The director Eldar Ryazanov
Photo: RIA Novosti
On the death Ryazanov said in a Facebook is working with him Irena Lesnevskaya.
For information about the death of Ryazanov Tass news agency confirmed the director's family. Source of "Interfax" agency reported, citing a family friend Ryazanov that the cause of death was heart failure.
In September and October Ryazanov held elective treatment and was discharged from the hospital. But a week ago he was again hospitalized. State director is serious. The last days of the doctors fought for his life Ryazanov. Its hooked up to a ventilator, but were unable to save.
Eldar Ryazanov was born November 18, 1927 in Samara. After the war he studied at VGIK, after which the first filmed documentaries, and in 1955 began working in the "Mosfilm". The first major work in 1955 was the "Carnival Night" with Lyudmila Gurchenko.
This was followed by the comedy films that brought Ryazanov-Union fame and popularity. Outstanding works of this genre began to film "Beware of the Car", "Hussar Ballad", "The old robber", "Irony of Fate, or Enjoy Your Bath", "Office Romance", "Garage».
succeeded Ryazanov not only comedy. Recognition received movies like "Cruel Romance", "Forgotten Melody for Flute", "Dear Elena».
In 1990 Ryazanov continued to shoot. Among his films of that period – "Promised Heaven", "old horse", "Hello, Fools».
Since 2002, film director was the president of the Russian Academy of Cinematographic Arts "Nika" .. In addition, he taught at the University courses for scriptwriters and directors.