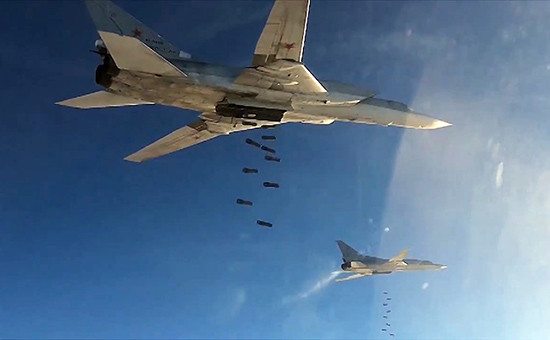 Bombers-missile carriers Tu-22 of the Military Space Forces of Russia during air strikes on objects of IG in Syria, November 20, 2015
Photo: RIA Novosti
Aviation Military Space Forces (VKS) Russia over the past five days destroyed in Syria, more than a thousand of fuel trucks, which carried Crude Oil at the "Islamic State" (a terrorist organization banned in Russia), the official representative of the Russian Defense Ministry Igor Konashenkov.
«I want to emphasize that over the past five days the Russian aircraft destroyed more than a thousand oil tankers, nalivnyakov, transporting crude oil to refineries controlled by a terrorist group LIH "- said Konashenkov (quoted by TASS).
In addition, a spokesman for the Defense Ministry said that over the past two days, Russian aircraft 50 kilometers south of Raqqa city destroyed the refinery, controlled by insurgents. Also during the bombing of videoconferencing Russia had destroyed a large storage facility 15 kilometers south-west of Raqqa.
According Konashenkova, these objects are in the areas of Palmyra, Deir ez-Zor and Raqqa controlled by militants LIH and are their one of the main financial sources.
The Russian military operation in Syria lasts from September 30. For the first time on the destruction of oil tankers with crude oil belonging to terrorists, the Defense Ministry said on November 13. Then the column was bombed fuel trucks near Deir ez-Zor.
November 16, after it became known that the cause of the crash was a terrorist attack A321 Russia, Vladimir Putin has ordered to intensify the attacks in Syria. After that, Russian General Staff, said that the Russian planes in Syria began a "free hunt" for a tanker with oil, militants belonging to the IG. November 18 Su-34 bombers began air strikes on targets applied IG related to production, processing and transportation of oil. November 20, Defense Minister Sergei Shoigu said that because of Russian air strikes "Islamic state" every day found ourselves short of 60 thousand. Tons of oil and losing $ 1.5 million profit.