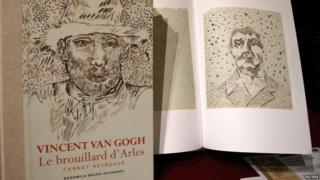 a Number of previously unpublished drawings attributed to Vincent van Gogh, are imitations, said the representatives of the Dutch Museum of the artist.
the Experts reviewed the 56 photos, 65 drawings, which are included in a new book about van Gogh, and came to the conclusion that they are not of his authorship.
However, the publishing house Le Seuil insists that the authenticity of the works no doubt.
the Book is called "Vincent van Gogh, Arles mist: was found a notebook," written by art critic Bogomila Welsh-Ovcharov, which specializiruetsya on the artist.
the book asserts that the drawings were made in the Ledger of the hotel in the French Arles, where van Gogh lived in 1888.
Director of the van Gogh Museum Axel rüger said that informed the book publisher about the opinion of the Museum about the authenticity of the pictures.
In conversation with the correspondent Bi-bi-si, Ruger said, "It was her position [of the author]. She also has experience and knowledge. We'll have to stay at their opinions".
Bogomila Welsh-Ovcharov was involved in organizing several exhibitions of van Gogh, including exhibition at the Orsay Museum in Paris.
researchers from the van Gogh Museum, which are considered the best experts in the world on the artist, came to the conclusion that the style of the figures is not typical of his works of this period, and the figures are monotonous and primitive.
According to experts, another argument was that the figures in the accounts book filled with ink of a brownish hue, which was not used by van Gogh in this period.
According to the researchers, the author of the drawings was not very familiar with the places depicted in them, which is not peculiar to van Gogh.
However, the books editor Bernard Koman insists on the authenticity of the pictures, claiming that the van Gogh Museum was wrong in the past and refused to acknowledge the artist's work, which later was proved true.
the Publishing house Le Seuil claims that Ledger was discovered in the archives of the hotel Cafe de la Gare in Arles in the South of France where van Gogh lived and worked during the year.